Well, I don't throw lingerie on stage or anything. But I do have a deep love of music. I do obsess a bit over my favorites.
It started in my teens… or maybe even earlier. I watched a lot of MTV, and when they replayed every episode of the Monkees TV show, I stayed up for 24 hours straight to watch them. My sister and I dragged our banker father– God bless him– from Florida to New Jersey to a Monkees convention and concert.
Then it was the Beatles. I had posters all over my high school bedroom. One that comes to mind said, "Remember Love- John Lennon- 12-8-80" (the day he died). On the weekends, my Mom took us to used record stores to find rare albums.
When my favorite songs came on the radio, I'd scramble to get pen and paper and I'd glare at anyone trying to talk with me, while I wrote down all the lyrics as fast as I could.
My new friend from middle school band gave me a U2 cassette ("The Unforgettable Fire"), and I immediately loved the passion and soul in their music. When I saw Bono walk onto the Amnesty International stage with black leather pants and a white peace flag, it was all over.
My friend who turned me on to them invited me to her Calvary church. "Um," I thought, "if this doesn't go with the leather pants, um… no thank you." But all I said was the "no thank you" part and went back to practicing my flute.
My first boyfriend was a musician. He wore Metallica t-shirts to school, and would privately play Barry Manilow songs on the keyboard and sing to me in the afternoons.
Into my 20's, this became a pattern. I had a thing for musicians. I used to joke that if I went into Target and there was a musician on the other side of the store, I'd find him.
I also began my a spiritual path as a teenager. So by my 20's, I certainly understood that everything is a reflection. I loved these musicians because they reminded me of parts of me that needed expression. So I started writing my own songs, and learned guitar, and even toured around the country for a few years.
As for my love life, I kept looking to musicians, but no relationship was working out. Finally, I asked my spiritual teacher for a reading. My requiring my partner to be a musician, he told me, was making things really hard for the Universe, because I was also requiring several things that musicians tended to struggle with. At least in my hippie Colorado town, a lot of them had issues with money, emotional stability or addictions.
So I broadened my search, and relationships got better. I kept making music. I went to SXSW music festival and as other attendees drank beers at noon, I sat on the ground eating my organic lunch out of tupperware. I wondered if I had the right job. And I have written about that in other posts…
Long story short, I chose a path of health and healing, teaching and spiritual coaching… and music became a hobby. And yet I'm writing today because my groupie side came out last night. No part of ourself that was truly ours ever dies!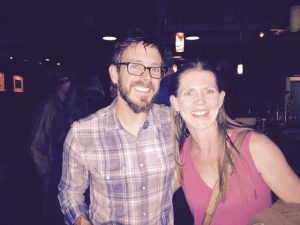 After being a fan for 2 decades, I got to meet one of my favorite singer-songwriters, Glen Phillips. He's most known as the front man for Toad the Wet Sprocket, though he's had an amazing solo career. My 3-year-old sings along when his songs come on my Spotify shuffle, if that gives you any idea how much I listen to him (and I think she takes after me). :)-
Every time I see him– or any great artist– perform, it reminds me of the artist in me. I tap into this big and passionate energy and I get high.
I am still a poet. Every time I give a clairvoyant reading, I speak in metaphor, symbolism… I bridge the personal and Universal. I give thanks to this work which allows me to go deep with people, something we hunger for as a culture.
And I also bow to those who choose a creative path, who vulnerably share their hearts and souls for the benefit of the masses. It takes courage. It's rarely an easy way to make money. And it requires one to manage a LOT of energy– from handling others' projections to mastering the creative process to withstanding the physical toll of travel and late nights and bars and separation from family, etc.
These artists provide me with comfort and inspiration, they shift my mood and they touch my soul. How could we possibly put a price on that? It's a calling, for sure.
Some cultures do it differently. For instance, in Africa, the masses sing and dance for the benefit of the individual, not the other way around.
Our western culture can seem so backwards; doing it the way we do where most people sit on their butts and watch a coveted few shine bold and bright. I have come to accept that most of the masses may never wake up, turn their creativity on and live fully. I believe deep down we all want to, yet most seem completely disconnected to that drive.
And so we have work to do. This is one of the reasons I do what I do.
Maybe if our communities were to sing and dance through the day as our "norm," it would be possible to be healthy on all levels AND be an artist. Maybe our artists would live longer. Maybe I'd pick up the guitar again, who knows.
Meanwhile, if we are going to project onto a few, let's own it. Let's bow to them. Let's recognize our greatness, our uniqueness, and all they reflect to us.
And somehow, I pray they be paid many-times over for all they provide.
—
P.S. This month, the theme for our Empowered Life Program is empowering your creativity. I have certainly been feeling this theme alive in my life! Our theme in May will be empowering your love life. Check it out here.