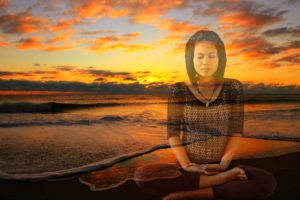 Sometimes people think, "Oh, Ann's intuitive… she can always see and avoid problems." Or, "she must be able to manifest whatever she wants."
Or I get a vibe from clients like, "If only I can get a psychic to give me my answers, I won't be in pain anymore."
Are these things true? Yes and no.
Did my husband and I get clear guidance to move to Colorado and just "happen" to find a near-dream house on the 2nd day we arrived, after everyone told us it was so HARD to find any house in this town? YES. That happened quite magically, because we listened and acted on our guidance.
Do my family, friends and others in my environment always act exactly the way I want them to and is everything always perfect? NO.
Do I ever have slow periods in my work, or times that feel too busy? Do I ever get challenged by life events? Sure I do.
If  a client asks me, "Am I going to get the job?" and the answer is "No"… Have I taken away their pain? Not really.
I remember being 15 years old and learning to read tarot cards. I had a deep understanding of philosophy and universal truths, but of course had little life experience. Do you think my tarot readings about the boys I had crushes on led to perfect relationships? No, of course not.
There are 2 main reasons why intuition may not be helpful at certain times:
1). The questions we're asking aren't that helpful. Whether we don't have the life experience or are just in too much pain, sometimes we can't think of a better question in the moment. That's ok, it's part of my job to reframe people's questions so they can find what they're actually seeking.
And if your own intuition keeps giving you answers that aren't serving you, that's a great sign to get some outside assistance. Speaking with a healer or counselor, working out, taking a trip or just talking to a friend can all help to shift your perspective.
2). Sometimes growth is painful. Just ask any woman who's given birth. I had a natural home birth with my daughter– no drugs- and after 20 hours of labor, I can tell you that bringing something new and beautiful into your life can definitely hurt.
Would our egos want it this way? Of course not.
But sometimes the fastest way to the life we want does involve a little pain. For example, I've heard countless stories of someone having their heart broken right before finding "the one". Or a health crisis that makes someone "wake up" and heal their whole lives.
That said, difficult situations sometimes arise because we're ignoring our intuition. Ignoring your intuition can cause anything from indigestion (if you eat the wrong food) to a terrible marriage or costly financial move.
I've personally learned this over and over, and life keeps reminding me. Even this summer, I allowed fear to rule over my intuition, I made a bad decision and it cost me.
Even though I teach this stuff, I'm still human. Ego, fear, desire and other human emotions can get in the way sometimes.
Intuition IS critical for a good life. And here's one piece of this a lot of people miss…
Intuition can include picking up on other people's thoughts and emotions. And when this happens and we listen to it– Boom! We get confused and intuition doesn't seem to help.
When you can't stop thinking of someone or something, when you can't process an emotion or solve a problem, that's a good sign you've taken on energy that's not yours. Our own intuition feels clean and clear, our own emotions can be processed and our own problems feel like creative challenges.
And so another part of my work is teaching people how to filter their intuition, and to recognize where those messages, thoughts and feelings are coming from. Empathy is a beautiful thing, but living your life confused is not! I've done the latter and I don't recommend it.
As for whether intuition makes your life and relationships perfect…
Using intuition is a great way to manifest things for yourself, but not to control others. Just look at nature. Her beauty is wrapped up in her wildness.
You can't have the whole range of life's expression and also call all the shots. It just doesn't work like that.
So let's stop trying. By getting out of our minds (where we seek perfection) and allowing ourselves to BE in the moment, intuition grows.
Create space in your life, and then… your body will just move in a certain way, a picture or message will pop into your awareness, or you'll get an "a-ha" about something that's been puzzling you.
Ready? Get my Top 10 Intuition Tips (subscribe below and I'll send to you) and let me know how it goes for you!
Have a personal question or need a shift in perspective? Join the Psychic Lounge on Sunday, 9/24 and I'd love to give you a little reading!