Every day, you probably take a shower, eat and go to the bathroom. If you don't you feel "icky". And so these things are important.
What most of us were never taught, but have probably felt, is that we also feel "icky" when we're holding other people's energy. We feel lost when we scatter ourselves too thin. Psychic energy is real and we need to deal with it just like changing the oil in our cars.
So, I've been doing a certain type of meditation where I clear and replenish my energy, and use visualizations to create my day– since 1998. To me, skipping my daily meditation is like going hungry without showering. Not interested!
I'll be sharing these meditations in the Psychic Self Care class starting 3/22 and I'd love to have you join us! In case you're wondering what this is and why it's important…
Here are 7 reasons why I recommend learning (and practicing) psychic self care:
1). It saves you time and money. Whether it's wondering whether to stay or go in a relationship, finding the right career path or getting clear on daily decisions– learning to find your own truth will save you so much time, energy, money and heartache.
Not being able to decide costs you time thinking about it over and over, talking to people, and possibly making the "wrong" choices that you then have to re-do. It takes money to see therapists or healers or seek other external remedies (not to mention that time is money)!
Usually when you can't decide on something, it's either because you've taken on other people's "stuff" or because you're not connected to yourself. Either of those situations is easier to fix that most of your problems, if you only know how! There are simple meditation techniques that can get you there.
2). Relationship dynamics become easier. Without tools to clear your energy, you "sensitive" types tend to feel other people's feelings as much as your own. And unlike "empathy," where you can tell who's feelings are whose, you are a psychic sponge and get lost trying to process what's not yours.
Your relationships feel "sticky" and confusing. You have trouble resolving your actual issues and lose yourself in other people, or tend to avoid relationships because they never seem to work for you.
3). The little things quit bothering you. It's like that day you spill your coffee when you're already late to an important meeting, you didn't sleep well and you're wearing white. Versus being rested, ahead of schedule and able to laugh at yourself as you clean up the mess and find an even better outfit to wear.
4). You get un-stuck. Right before I started meditating daily, I felt unresolved about a relationship that had ended suddenly. Within weeks after I started meditating, I ran into him "out of the blue," and found my peace with it all.
I knew the meditations I'd been doing had "unblocked" whatever was keeping me stuck and set us up to run into each other. I've heard countless stories like this.
5). Colors become as fun as when you were 5. If you've ever seen an aura photo, you know our energy field is made up of colors. You can go get a photo taken and have somebody tell you what your colors mean, or you can use visualization to choose the colors you'd like to surround yourself with.
Because each color will affect how you feel and how others perceive you, you'll start to affect your environment more than it's affecting you. If you're normally sensitive, that's a huge game-changer!
6). You feel like superwoman (or man). Psychic self care allows you to live your life as an infinite soul who happens to have a human body. You feel a renewed sense of power and confidence– just from connecting to your soul, but also because you begin to see your role in things and how you use energy to create your life.
7). You're able to stay present. Without consciously "reeling your energy in" each day, you probably scatter yourself in a million places. Every time you think about someone, every time you worry or plan for the future, every time you reminisce or regret the past, and every time you rush or daydream about another place– a piece of you leaves your body. That sounds weird but it's true.
It's not "bad" to do it, but it definitely creates problems if you do it regularly and aren't really conscious about what you're doing. It can make you spacey, disorganized, fearful and ineffective.
If you're always "in the future," it can keep the things you desire perpetually at arms length. If too much of your attention is on other people, it repels them and disconnects you from your power.
By contrast, having your awareness in your body, here and now, is like having fuel in the tank to get to your desired future. It makes you magnetic to relationships and success, and keeps you calm and relaxed.
—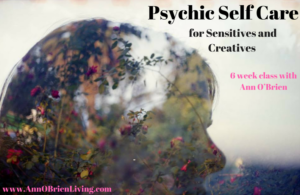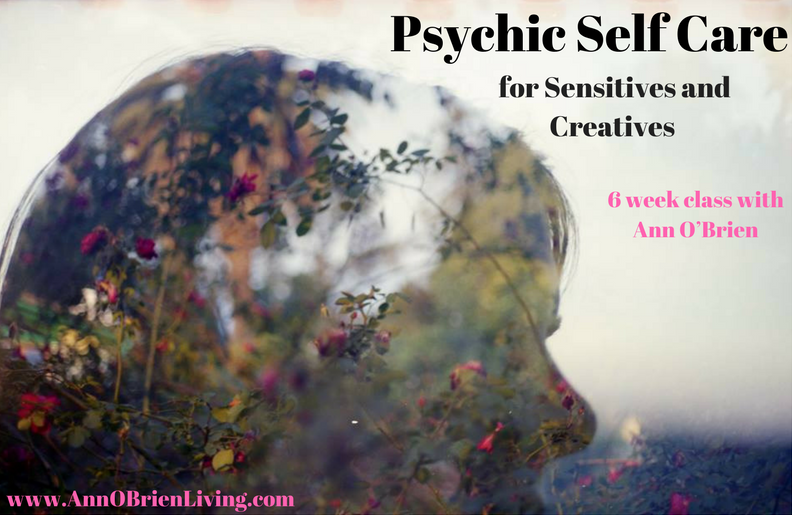 All of this is so simple! It baffles me that most of us weren't taught.
And so I'm offering a webinar/ teleclass, "Psychic Self Care for Sensitives and Creatives". In the class, you'll learn basic meditations for grounding, emotional clearing, energy balance and protection and more.
It starts on 3/22 for 6 Wednesday nights. Join us and let's see what happens!