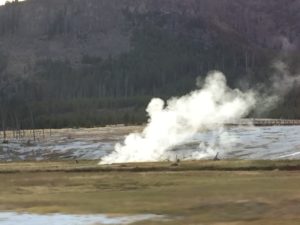 Last month, in a cabin next to Old Faithful, I woke barely able to get out of bed. That pressure I'd felt in my head the night before had become a full-blown cold or bug.  I had a sore throat, slight headache and felt really tired and spacey.
My husband usually calls me the "energizer bunny," and especially on our one day at Yellowstone, I would have normally been skipping and jumping throughout the park. That morning, he figured out pretty quickly that I was incapable of even making breakfast.
I slept half the morning while he and our daughter explored a bit. Eventually, he brought me a chamomile tea and I drank it along with some too-sweet paleo granola (the only paleo granola we'd found in Missoula) and a clove of raw garlic. For the rest of our trip, I had raw garlic every day (and lots of breath mints :).
We were 10 days into our 3-week trip. Our lives had been jam-packed, and we'd carved out this special time for our family to explore the western U.S., looking for a new place to live.
And my getting sick was perfect. Though it didn't seem so at the time.
It was already a stretch to drive almost 5000 miles, visiting 14 towns in 3 weeks with a 3 1/2 year old. It was already a stretch for Arthur and I, both entrepreneurs, to take so much time out from our work that never really "stops", and for we 3 "big energy" people to be together for weeks on end in a small car, hotels and friends' guest rooms.
We were each used to more time to ourselves, to our exercise routines and time for spiritual practice, etc. I was grateful for this time with our family, but after 10 days, the "hermit" in me hit a wall.
I had been feeling stronger than ever before the trip. Flexible and ready for adventure. So it shocked me a bit, and pissed me off.
"Why me? I am so dedicated to my health. Why now? Was it the 2 times I had gluten? The handful of times I had sugar? Can't I just enjoy some of the things 'normal people' enjoy for a few weeks?"
I wanted to make it go away. And none of that got me any closer to healing it.
By the next day I had more energy, but started getting stuffy and horse. A few days later, I could barely talk. And it's pretty difficult to not talk when your 3-year old is saying, "Mama, why…" every 30 seconds. Or when you're staying with friends you barely ever see and they just cooked you a gourmet meal.
With stillness and alone time, I felt better. Motion, activity and talking would exhaust me or send me into a coughing spell. I had to take hours to go out exploring on my own. Or let others play with Azadeh so I could rest, write or meditate.
I felt guilty and yet closer to myself, my truth, than ever. This was a part of me I had yet to fully honor, integrate and come to peace with.
As a kid, my family would go on summer vacations to my grandparents' cabin on a lake in New Hampshire. My mystical side felt at home as I connected so deeply to nature, and loved to read, listen to music and play in the woods.
I couldn't understand why my grandfather reacted the way he did. "Sally," he'd bark at my mother, "tell your daughter to go use the lake."
He wanted to see me on an inner tube, swimming or taking rides in the boat. I had little interest in these water "sports"– they totally took me out of my creative flow and bliss. It was all about his pride and his "pictures" about family; he apparently had no interest in learning about me or supporting me for who I really was.
Into my teens and 20's, my mystical side grew and became a focus for my life. I had hours and hours and hours of spiritual alone time. I struggled with relationships and the "real world", and it never seemed like these things could really go together.
Recently, I thought I'd integrated it. I've been all about "practical spirituality" and teaching people how to have their spiritual awareness in the "real world". I've been in relationships, been running a business and have had a family for many years now.
Last month, the hand was forced. My mystical side wasn't done. My need for solitude was still there and I'd have to own it while with other people. So many miles from home, there was no escape.
So I came face to face with my judgments. This showed up as fearing others would judge me– that they would think I was a rude houseguest, that something was "wrong with me" or that I was "weird" because I did not want to socialize, that my husband would find me to be "no fun" or resent me for not doing enough "mama-duties," etc.
Being sick gave me an excuse to excuse myself. And unlike my childhood with my grandfather, it gave me the experience of allowing this part of me to be loved and accepted.
Truth be told, I didn't feel anyone judging me on the trip. And I realized I still had some judgement of those years in my 20's, when I needed so much alone time and yet didn't "have it all together" like I do now.
It's a great marketing message– to say "Look where I came from and look where I am now. Now, buy my spiritual tools because they work." But really, we need to love the "where I came from" part as much as the "now." No matter where we "get to", it doesn't go away.
We were staying with my former assistant in Crestone, Colorado (a super high-energy place!) when I was the sickest. I tried my best to hide away and there she was, unconditionally offering whatever was needed– from breakfast to childcare to vortex tours to completely leaving me alone.
At one point, she and Arthur and Azadeh all went out and I blissed out for awhile practicing yoga on the deck, doing some work online and writing in my journal. As I wrote, I strove to understand what was happening, and did so from a mental place until I hit something…
Tears flowed as I reflected on the love I was feeling. Arthur and Azadeh were right there, supporting me no matter what. They could be social and I could do my thing, and it was fine.
Never before in my life had I felt like I could really "be me" and still be loved. I could hardly believe it was happening, I was so touched.
By the time we got back home, I felt a lot better and yet was still regaining my voice. I still yearned for stillness and solitude. And it was time for Azadeh to go back to preschool, which meant almost daily social chit-chat for the first week or two.
I had to show up, and just found myself telling people I yearned for retreat. That it felt like going to 9 parties in a week, with 4 drop-offs and 4 pick-ups and a welcome pot-luck. I love everyone there, and I conveyed that part too.
What a change from last year, our first year, when I got completely blindsided and broke down because it all felt like too much to me. I didn't realize it, but at that time I still felt like it wasn't really ok to "not want" all that social activity.
This year, even though I didn't want to show up, I was able to do so more easily because I owned and accepted that I didn't want to. I was able to share my truth, and assume support from others (even through our differences) rather than assume conflict. What a shift that was!
I'm still exploring what this will mean for me work-wise. As we traveled to so many less-populated, much more relaxed places than LA, I've returned less interested in pushing anything.
I'm taking more time for family and self-care, and making more space for the writing that has been calling me strongly for years. More to follow as it unfolds…
I share this in the spirit of reminding us that all the parts of us are valid and lovable. That every chapter in our life has it's purpose. That even seemingly "unfortunate events," such as getting sick, have their gifts for us.
Always. Enjoy them. Or at least, get curious.
If you'd like some support discovering, loving or owning those parts of you that you aren't at peace with, I am available for private clairvoyant reading and healing sessions. And if you're in Southern CA, join us this Friday night 9/23 for the "Call Back Your Creative Power" workshop in Laguna Hills.