Well, I did. Until this happened…
Let me give you a little backdrop to start. For those who've taken my classes or heard me speak, you may have heard my opinion on use of the color white. For those who haven't…
I am often asked what I think about using white for spiritual protection and healing. And what I usually say is… "It's a color of transcendence and oneness and bliss, which can bring powerful healing. It can also take you out of your body and make you incredibly open, so I don't recommend using it in public or in situations where you need to stay grounded and present."
And there I was, last week, running white energy in my parked car in a somewhat busy parking lot. I was surrounded by busy people zipping in and out of a cafe and spa, hippies and mountain folks, and a few homeless people.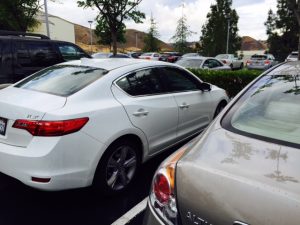 "Bang". Something jolted me back into my body.
I looked up to realize the woman next to me had opened her door into my car. Not a huge blow, by any means, and yet given my state, it totally startled me.
It appeared she was doing nothing, just going on with her day. To be honest, it was kind of a blur. I am sure, from the expression on my face, I didn't look too happy.
"It was an accident," I heard her say defensively.
"I was meditating, so it startled me," I replied.
I closed my eyes again and asked my guides to help me re-ground into my body. I asked their support as to how to deal with the situation. "Should I say something more, or just let it go?" I wondered.
I got the message to speak up. In general, I have learned to speak up and to be ok with conflict. That's been a healthy thing for me, since I grew up learning to avoid conflict and to label anger as a problem.
I have learned that anger has a healthy place, and that one can be assertive without being nasty. That's what I thought I was being.
And just for the record, I'm not that fussy about my car. I don't have a fancy car. Other than getting me around town comfortably, it doesn't get too much of my attention.
Where my attention goes is to consciousness… or to lack thereof. In my experience, this woman was being unconscious. She banged into my car and then brushed it off as if I had done something to her. She didn't show any compassion for me or offer to check my car for damage.
She rushed off. And this pissed me off.
So, still in a bit of a daze, I got out of my car to look for her. As she disappeared into the shopping area, I called out "You might want to check my car…"
No response. I got back in my car to collect myself while waiting for my husband, who was meeting me for a hike.
Pretty soon, the woman came back out accompanied by an aesthetician from the spa, who I also know. Huh? I wondered. What are they doing together?
The woman who hit my car asked if I wanted to talk. I said, yes, I just wanted her to own her part rather than defend herself and blame me. I don't remember the rest of the conversation exactly, but it didn't go well. She told me to hold up a mirror, and then left again.
Unbelievable, I thought. If only she'd apologize and check my car out, it would have been over in 30 seconds. She said she had checked it, but I hadn't seen that.
Around this time, my husband showed up. He said hi to us and I told him she'd bumped my car with her door. I told him there was no damage, and that we were just working it out. He disappeared into the cafe to get a brownie.
We started on our hike and I asked Arthur for insight on the situation (he is super intuitive, too.) And, he and I both share the goal of wanting the world to be more conscious. For both of us, it's somewhat shocking when people aren't.
"I guess I have to just be more compassionate about where people are at, " I said. "Maybe she was having a really rough day."
He said, "Yeah, it's her kids, her ex-husband, etc."
And I asked, "Are you seeing all that?"
"I know her." He said. She's come to some of our Buddhist meetings.
"Oh." I thought. Thud. This was not a "stranger". This was someone, indirectly, from my community.
I got even more uncomfortable. I wanted peace. We finished our hike, both of us quieter than usual.
As the day went on, Arthur received several phone calls. First, car woman's friend (also from the Buddhist group) called him to say she'd heard about it. Then he spoke with one of the Buddhist leaders. "What?" I could hardly believe that all these people had to talk about this little bump on my car.
Arthur is also leader in this Buddhist organization, so the whole thing reflected on him. While it had nothing to do with him directly, he felt responsible to clean it up.
While I appreciate his practice, I am not a Buddhist. Though, somehow car woman assumed I was. "I can't believe a Buddhist would do that," she'd said to her friend. She also complained that Arthur didn't protect or stand up for her.
So, he met with her the next day to smooth it out. When he came home, he told me our stories didn't match up. She said she'd said she was sorry, but I didn't hear her. She had brought the aesthetician out because she didn't feel safe around me. She was too shaken up to even get her treatment.
Wow. I was completely baffled. I had absolutely no intention to harm her, chase her down or threaten her. In my eyes, I was simply calling her out to pay attention and show respect. If I were in her shoes, I thought, I certainly would have gotten my treatment. I might have told a close friend, but it wouldn't have been a big deal.
Me, scary? I had never thought of myself as so. Though I guess through my decades of practices in focusing energy, I can be intense. Maybe I project more power than I realize?
Back to the meditation part. I really had not experienced her saying sorry or checking my car, though I can see where I might have missed it, because I was consciously "out of my body." Assuming she was telling the truth, I guess that was my lack of consciousness in missing these things. Ooops!
Every day, I ground, release energy and call my spirit more fully into my body. I also spend some time running a white light energy, where I consciously step above my body. For me, this helps me disentangle from the day-to-day emotions and sometimes-thick growth process of physical existence. It allows me a different kind of healing, and helps me raise my vibration.
But it is an advanced technique. I have only taught it to about 15 people. And that's not because "advanced" is reserved for "special" people with big egos. In this case, "advanced" means we need a certain amount of wisdom and a solid meditation practice "in our bodies" before getting out of our bodies.
Channeling is not all a bed of roses. When we consciously step above our bodies, we leave the door open to our body, which includes our mind and conscious awareness. Other energies can– and usually do– come in. In most cases, people channel to bring in helpful spirit guides and angels, so it works out fine.
But the truth is, this practice can also open the door to more negative energies. These can be energies or entities we already have some connection to, or energies from our surrounding environment.
In that moment, maybe I was channeling my mother's stuff, or my old stuff from growing up where I had to get edgy to defend my boundaries? Perhaps I created this exchange so I could discharge some of that? Or, maybe I was just channeling energy from the homeless people camped out in front of the café?
I learned after the fact that this brought a powerful healing for car woman and her friend. Maybe in some crazy way, this whole thing happened to bring them together? Maybe her guides mischievously conspired, through me, to make that happen. After all, I could handle it and so could the other woman. Divine orchestration can be a crazy mystery sometimes.
Sometimes we need to not take it so personally. But as for my accountability, here are some things I have learned:
1). While anger can be healthy, it comes out "clean" when we do it from a connected, in – body place. Getting angry when I was not fully in my body brought confusion, because of the various energies channeling through me.
2). I won't meditate in a parking lot like that again. Going into spiritually altered states comes with responsibility, just like having a few drinks does.
Sure, I could defend myself and say that was my only choice in between preschool drop-off and date with my hubby. I could champion myself and say how awesome I am because I meditate no matter what and I don't make excuses or let life get in the way.
Or, I could let that excuse go too, and just park my car around the corner in a quiet neighborhood where I'm surrounded by birds and butterflies instead of hurried people. I could have at least put some more protection around me and my car.
I thought I had a strong enough practice to meditate anywhere. And most of the time, it seems I do.
Most of the time, I would tell you to. To meditate anywhere and anytime you can. I learned this time. And I thought I would pass it on…
—
Did you find this helpful? I'd love to hear how! Leave a comment below.
Looking for personal support? Set up a free 15-minute phone or Skype call and learn more about working together here. My new client packages include a downloadable meditation course so you can learn to clear, center and replenish your energy!