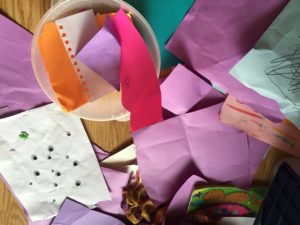 Our living room floor has become pink, purple, gold and green. It's summer "break" and with our 3 1/2 year-old daughter out of preschool, her art projects have taken over the house.
She makes new scrap paper faster than we can clean it up, and so for weeks we've lived with it. Imagine your entire floor looking like this?
We don't like clutter. And so it's easy to feel a victim to it, to feel disempowered.
The spiritual part of me says, "Just surrender, relax; no one has a 'perfect' life anyway". It says, "Just focus on what's important- your daughter and her joy. If I'm a 'good' parent I would just love her and let it go."
And then the human part grumbles, "Why can't we ever keep the house clean? I work so hard and I get nowhere. Why me? Poor me." If I'm not careful, that anger could get repressed or projected.
We are both human and spiritual. Neither of those voices alone feels very good, to me.
Too much spiritual morality feels punishing and shameful. I'm not that perfect, I'll never be, and I feel uncomfortable thinking I should be. Isn't spirituality meant to make me feel free?
Our human emotions of frustration and anger are real and need to be expressed. But if we hold on to them, or indulge in them to the point of victimhood, we perpetuate our suffering.
Life is meant to be painful sometimes. That's how we grow. But I don't think we're meant to suffer.
Do you see the tupperware bin in the picture? This is the solution we came up with.
One day, I had the a-ha. I was watching my daughter snip paper in the kitchen, and realized she just let it fall to the floor without paying any attention. And she loves a game, so I made it a game:
"Azadeh, here's your bye-bye bin," I told her as I put the plastic bin down.
"Oh," she looked up curiously. She loves to learn.
I said, "When you cut a piece of paper that you don't need, just put it in the bye-bye bin." Pretty soon, we had a bunch of paper in the bye-bye bin, and a lot less on the floor.
It was one of those moments where I was kicking myself, wondering why I didn't think of it sooner. But I guess my victim programming wanted to run the show for a few days.
It's ok. I forgive it.
I see it in my clients so easily. I made a video last week where I shared some stories:
One woman complained for years about having "no space" in her house, then realized she could simply move things to free up a room for her office. Another was afraid to approach a love interest at work, and let day after day go by because her fear kept bullying her desire for love.
If you haven't seen the video yet, you can watch it here. It's called "Are You Making Things Too Hard?"
Making things harder than they need to be is crazy-making, yet we all do it! So how do we get off that hamster wheel and live an Empowered Life?
To me, Empowered Living means marrying our spirituality with our humanity. It allows and includes ALL parts of us.
Some moments we meditate, other moments we roar with laughter or wail with tears. There is a little bit of meditation within the tears, and a laugh bubbling beneath the surface as we sit in stillness.
Empowered Living requires our creativity. When creativity stops we feel trapped. When circulation stops, disease happens.
For every problem we truly have, there IS a creative solution if we just get out of the way enough to let it emerge. It's often quite obvious! And when we can't solve a problem, it's probably not ours to solve anyway.
The health of our whole being depends on us moving our life force. And so Empowered Living involves moving our bodies, our emotions, our mind and our energy.
I guide the most wonderful clients each month in just that. We dance, write, meditate, clear and replenish our energy, and talk about how to be empowered in love, money, sex, health, creativity, career and more.
Because we all get stuck. Because we see ourselves more clearly when we are seen. Because our spirituality and our real-life are not separate.
It's true, no one has a perfect life. I don't promise anyone that I'll wave a magic wand and your soul mate will appear at your doorstep with a million dollars and a ticket to Paris.
But I bet, in each area of your life, there are ways you could be more empowered. That with guidance and community and focused practices, you will have those "a-has," and begin to live your life differently.
Empowered Living means being curious. It says "tell me more" with eyes wide open, and yet rests in full trust when the truth is clear.
Empowered Living is finding peace and confidence within. It's a "can do" attitude, and yet it's willing to wait when spirit whispers "wait" to that wild horse in your mind or heart.
Empowered Living is not waiting for next year, for external permission, for another degree or for the kids to grow up. It's accepting our circumstances and at the same time, showing up fully without apologies.
Is this something you're wanting? Are you on the verge of it? Excited or scared to see it coming for you?
If you're here, I know you are meant for this. And if you'd like some support along the way, I'm here.
Let's find the bye-bye bin to your problem. The "a-ha" to your blah.
The Empowered Life Program opens just once each season, and the next chance starts July 5. Join us for a year-long support journey so that no part of YOU is left out of your life here!