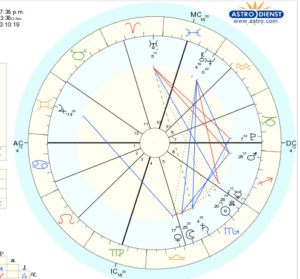 I've been obsessing over locational astrology charts. So much so that my 3-year-old daughter has started asking to see her chart on my phone. She knows it's important.
The other day, she sat in my lap as I pulled up charts for our family for all different parts of the world. Dozens and dozens of charts.
By looking at your natal chart as if you were born somewhere else (with time zone adjusted), you can see what kind of life you'd have there. And Arthur and I are feeling into the life we'd like to create in the years to come, and which place will most support that.
There is an area of the U.S. that I'm so drawn to, where I know I have a traditionally challenging chart. There is a strong Pluto energy for me there, which brings upheaval and transformation– for better or worse. How it plays out depends on many factors– the rest of one's astrology as well as one's state of evolution and consciousness, etc.
I used to think that if I meditated enough, ate well and took my supplements etc., I'd be immune to negative influences. Unfortunately, it's just not true. I've been hearing this more and more lately from leaders, highly conscious individuals who I respect.
Seemingly "bad" things sometimes happen to "good" people. We all have our challenges to overcome, and this is how we grow. Sometimes, those of us on a path of personal evolution actually attract more challenges than the average person, because we know they'll transform us and make us stronger.
Still, when is enough enough? When should we seek the "easy" route, and when do we dive head first into our challenges? What if we try our best to manifest or change something, and it still doesn't change?
I've been asking all these questions lately. Particularly, if I'm drawn strongly to something known to be challenging, is that because my old programming is driving me (because this particular challenge is familiar even though it's unhealthy)– or because it's really "mine" to dive into and work through? I grew up with some volatility in my home, which helped set me on the path of personal transformation that's become my identity. Am I done with that or is that really "me"?
If I find it's my programming driving me, then I choose to change course and find a path that supports my soul's joy. That's the Pluto-lover in me. 🙂
On the other hand, if fate is pulling me forward, there's nowhere else to go. Better face it than wait for it to "happen to me."
So really this post is about 3 things: Fate, programming, and free will.
I believe that each of us is an eternal soul, who has lived many lives in different bodies. To me, fate is the path our soul signed up for this time around.
We all have amazing gifts, and a "soul history" so to speak– areas where we're highly capable and areas where we have a lot to learn. Before birth, I believe we each chose our bodies, our parents, and our basic life circumstances because they were perfect for the lessons and expression our souls' need to achieve balance.
As we grow up and learn to meditate, manifest, and maybe change our location (and thus our astrology), we tap into our free will. I believe life can be much, much easier when we do so. For example, someone fated to have health challenges might use the resulting awareness to heal others. Their illness might motivate them to clear up some "soul wounds"– stuck emotions and energies that otherwise wouldn't get addressed. And while that's not easy, it's a beautiful thing.
Some of us had a rough, rough go of it in our last lifetime, and want this one to be more about "coasting." Others have had a certain desire unfulfilled for several incarnations, and this lifetime is THE time to fulfill those.
My having my daughter this lifetime was a "must-do". There was no way around it. I remember going for bodywork during my first trimester and worrying that she would push the wrong spot on my foot and cause me to miscarry. The practitioner, a very intuitive woman, laughed at me and said (lovingly), "This baby's not going anywhere." 😉
Have you ever wondered whether you're meant to embrace your challenges or change course? Whether the "easy" route is just your old familiar pattern or something truly refreshing for your soul? And how much you can really change your life?
There are no instant answers here, because we all have unique circumstances and needs. But here are a few potential guideposts:
If you're currently experiencing challenges, get quiet for a moment. Take a deep breath and ask yourself, "How is this serving me?" You are always getting something out of any challenge. Sometimes it's bringing you blessings you wouldn't have had otherwise, as in my health example above– and these challenges are worth seeing through. Sometimes, the greatest benefit may be to teach you boundaries, to say "enough is enough" or to clarify what you truly desire.
Still in a quiet place, ask yourself, "How long am I meant to have this challenge in order to get what I need out of it?" Maybe you were done last year, or maybe you need another 5. Trust yourself.
If you are repeatedly drawn to a type of person, place or situation you know is challenging, ask yourself the following question: "What percentage of my attraction to this is based in old, unhealthy patterns?" (And wait for an image, voice or "knowing" to give you the answer). Then ask, "What percentage of my attraction here is a soul-calling?" (And notice the answer). Nothing is 100% black and white, but this is a great exercise that's brought lots of laughter and groans to my clients over the years.
If you're considering taking the "easy" route, ask yourself if this choice lights you up, gives you more energy as you think about it, or excites you in some way. Or does it just feel "comfortable"? Comfort without excitement may indicate an old pattern repeating. And in some cases, you may feel uncomfortable or barely feel anything at all, because it's unknown. This may be a sign to explore it, as your soul may desire something new to evolve. Often when I feel totally empty and apathetic, I know some big changes are afoot!
If you've tried to manifest or change something and it's not working, be easy on yourself. My daughter's spirit first came to me in my 20's, and back then I wasn't ready. I believe whatever is truly yours cannot be lost. So trust the timing, and also be open to the possibility that your soul knows better than you do. Rest in knowing that we all have challenges. There's nothing "wrong" with you.
Deep thoughts on a Thursday afternoon. I hope you enjoyed, and please leave a comment if you feel inspired.