I just finished a three day business retreat in Park City, Utah. I say "business retreat" and if you have been following my Facebook or YouTube channels, you know there's been a little more to this.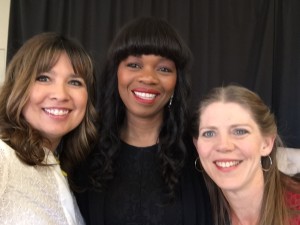 Along with business strategy and networking, we also did meditation, energy clearing, affirmations, yoga and even pole dancing! I am so grateful to be alive at this time where all these things can go together. 🙂
Sometimes, living in LA I get mountain fever. I love elevation and open space and so I was excited to go to Utah for that reason, too. So I was a bit in shock to arrive there and find how cold and homogenized it felt. Oooh, the physical landscape is so vast, so why do I feel constricted?
Through the workshops we did at the retreat, I discovered a pattern in my lineage that's been impacting many areas of my life. This pattern of control and rebellion. One side of the family/one person was overly controlling, and the other side/ person became overly rebellious, chaotic or destructive.
Control is more the cultural norm, though it gets a bad rap amongst many of us who are spiritually or artistically-inclined. Unfortunately, in the process of rejecting control, we usually end up rejecting a healthy sense of structure and boundaries that could serve our spirituality and creativity. And on the low-end, we go to rebellion or even destruction.
Culturally, rebellion and destruction usually take the blame. For example, I spoke with a Salt Lake City – based therapist this weekend who specializes in addiction. She told me the area has one of the highest rates of addiction to opiates and pornography plus one of the highest male suicide rates in the country. When I asked her why, she suggested that the conservative culture made people feel like they were going to pop (I'm paraphrasing.)
Our creative energy has to go somewhere. If the structures in place in our lives do not serve our creativity but instead dampen it down, we can either explode (addictions, violence, moodiness) or implode (gain weight, get sick, get depressed, etc).
I have seen so much conflict between these two polarities that one of my big lessons… and now gifts to share… is in letting go with the idea that they are in conflict.
Control and rebellion. Yes, those two oppose each other. But that's because of distortion and misunderstanding on both sides, not because each side of the equation is "wrong."
Part of my job is to see the best in everyone – to call forth the greatness in my clients, for instance. I see the best in control and I see the best in rebellion.
Control is really healthy structure that got scared. "Maybe I'm not going to have my needs met, maybe all this creative energy is too much, maybe my ego can't win, etc…" And boom- Control shuts things down.
I have seen entrepreneurs grow exponentially when they have great systems and structures that can "hold" more business. I have watched woo-woo spiritual folks become much more enlightened once they commit to specific spiritual paths.
I've seen "starving artists" in emotional drama become stable and more productive once they have the foundation of a community, work schedule or consistent income to support their creativity. Oh, and did I mention that a woman soars when a strong man holds space for her to be all that she is? 🙂
Usually, people who over-emphasize control end up with rebellious people in their lives. Everything in our environment is a mirror. If you aren't nurturing the wild creativity within you, someone will come along to remind you. Drama happens.
Oh, control and rebellion. I know who you really are. You are that strong foundation and the bounty of life force itself. I have both of you in me, and there is no conflict anymore.
—
If you're ready for a solid container so your life force can expand, check out the Empowered Life Program. We begin tonight, 4/19/16, and our theme this first month is CREATIVITY.